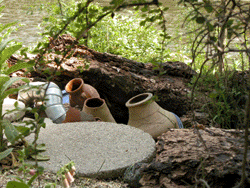 HKstudios offers digital photography services to enhance your website. We have the latest in camera and lighting equipment. We will show your facility/product/staff to their best advantage.
Production
HKstudios will consult with you to determine your project needs. We will arrive at the location and set-up our equipment. For product-shoots we will bring our portable shooting table.
HKstudios uses high resolution digital cameras to capture your images. The picture files are suitable for printing or web use. We also offer post production photo manipulation.
Post Production
We offer photo retouching of faces to remove shadow and line. We straighten furniture and accessories for an appealing display. We can drop in a sunny sky onto a cloudy exterior shot. We can create a photo montage for a web header. We can crop a photo and create a promotional postcard for your restaurant/hair salon/speaking appearance. We can halftone an image or apply artistic styles for an imaginative home page. We can assemble photographs into a slide presentation for your website. We can execute your photo ideas.
Pricing Arrangements
We offer daily rates or price per photo pricing arrangements. Some customers may also benefit from our monthly maintenance digital photography option whereby we will visit your store or warehouse on a monthly basis to photograph products for your website. As a monthly maintenence option, we can also post them onto your website.
For more info>>> contact@hk-studios.com